08029768 • Politics and Media • Module PO2S016_2009_v1
| | | |
| --- | --- | --- |
| | | |
WILLIAM.D.LLOYD

A Welshman and The Spanish Civil War

William.D.Lloyd pictured (centre) with members of the Aberdare Communist Party. There is a possibility that this was taken after the group had been canvassing.

Date not verified. Published with kind permission of Mrs.G.Malpas (Cwmbach - Aberdare).

'I was practically born into the Communist Party; my mother became a member through the Labour Party in the days before Communists were barred. Our house was the headquarters for all the local activities during the General Strike'.

'I took part in the Party's activities in 1926 as a child. I think the first illegal act I took part in was selling photos of the twelve Communist leaders imprisoned for sedition.'

(Will Lloyd - reproduced with kind permission of Mrs.G.Malpas)

'The Lloyds of Aberaman were in the Communist Party before the Paris Commune'

(Edwin Greening - 'From Aberdare to Albacete')

No Pasaran!

NO PASARAN!

Los moros que trajo Franco
en Madrid quieren entrar
Mientras que haya un miliciano
los moros no pasarán

Si me quieres escribir
ya sabes mi paradero
Tercera brigada mixta
primera linea de fuego

Aunque me tiren el puente
y también la pasarela
me verás pasar el Ebro
en un barquito de vela

Diez mil veces que lo tiren
diez mil veces que lo haremos
Tenemos cabeza dura
los del cuerpo de ingenieros

En el Ebro se han hundido
las banderas italianas
y en los puentes sólo quedan
las que son republicanas


The moors brought by Franco
want to come into Madrid
As long as there's a militiaman left
the moors will not pass

If you want to write me
you know my destination
Third mixed brigade
first line of fire

Though they knock me down the bridge
and the footbridge as well
you will see me cross the Ebro
on a little sailing ship

10,000 times they can knock it down
10,000 times we are going to make it
We are stubborn people
in the engineer corps

In the Ebro sank
the Italian flags
and the bridges only carry
those which are republican

http://flag.blackened.net/revolt/spain/song_los_moros.html

The Spanish Civil War has been an interest of mine for a good many years but it is only this last year or so that I have started to read extensively on the subject. The interest was probably rekindled with the novels Cwmardy and We Live, written by Lewis Jones in the 1930's. I had to study both books for an English module in the first year of my degree. One of the the main characters of the novels, Len, loses his life in Spain, after volunteering to fight for the Republicans. They say life imitates art and ironically, Lewis Jones, the author, tragically died at a young age, after a giving a speech in support of the Republican cause in the Spanish Civil War.

Whilst researching a later essay on both Lewis Jones' novels, I dipped into The Fed, by Hywel Francis and David Smith. This was a history of the South Wales Miners and references were made to the Republican struggle and the volunteers from the Welsh coalfields. I also managed to read Brigadista: An Irishman's Fight Against Fascism by ex Brigadier, Bob Doyle, as well as Frank Ryan's, In Red and Green: The Lives of Frank Ryan. Both books were excellent accounts of the authors' experiences fighting for the Republican cause. This was followed by Edwin Greening's great account, From Aberdare to Albacete, which was of particular personal interest, coming from the same valley. In addition, my grandfather was brought up in the same era and the same village as Edwin so I could relate to a lot of the local information etc in the book.

Whilst perusing Edwin's book, I noticed the name, Will Lloyd, mentioned quite a few times and within a short period of time, I realised that I had known his daughter, Gill, for a number of years, as one of my friends is married to her daughter and I had also served on a local management committee with her, a decade previously.

I was amazed to see the name of the aforementioned Frank Ryan, whilst reading some old notes of Will's, which were kindly passed onto me by Gill. It appears that both men knew each other quite well! That only served to increase my interest in Will and find out more about him and the Spanish Civil War. After contacting Gill, I decided to focus this assessment on her dad and thus, this project was born.

From the outset, the Spanish Civil War was a complex issue and as a consequence, I can't even begin to address such complexities in such a short resume. In 1936, Spain was enjoying the benefits of its new democratic regime. Its people were enjoying such social benefits as education and health care for the very first time. However, chaos would soon descend, as Franco, the fascist dictator launched a military coup. This was undertaken with the full assistance of Hitler and Mussolini and the Spanish civilians soon experienced the might of the fascist military campaign, with the aerial bombardment of Guernica. The Basque town had no military targets. Nevertheless, 1,654 people were killed and 889 injured out of 5,000 residents.

There was a desperate cry for help to the outside world but the official governmental response from countries such as France and Great Britain was one of 'Non-Intervention'. Despite this, thousands of men volunteered from countries as far away as Australia, Canada, Holland and the USA. The Soviet Union was also heavily involved. Even though the British government enforced a 'Non-Intervention Treaty', many men from both Britain and Ireland volunteered to enlist in the Republican cause against the fascists. The feeling amongst many, was that this conflict was the first battleground of World War II.

The response from Wales, especially from the mining areas was remarkable. There was a great solidarity amongst the miners to the Republican cause and indeed, when London socialists organised the Spanish Workers' Fund in 1938, the majority of its collection came from the Welsh miners. Many men would make their way to Spain to fight with the International Brigades, overcoming both personal sacrifice and physical endeavour in the process. William.D.Lloyd was one such man and indeed, he acknowledged such difficulties, when he wrote, 'by now the policy of Non-Intervention, sponsored by the British and French Government was now fully operational, and volunteers were experiencing great difficulty in getting to Spain' (with permission of Mrs.G.Malpas).

Unfortunately, the Republicans spent as much time fighting each other with internal political and ideological conflicts, as they did the Fascists, and this ultimately blunted their efforts. In 1939, General Francisco Franco eliminated all opposition, and in doing so, declared himself Generalissimo of Spain.

Just two days away from the 71st anniversary of the end of The Spanish Civil War (April 1st 1939), I was able to meet up with Will's daughter, Gill and discuss her thoughts on her father's role in the conflict. I prepared a few questions in advance, for the meeting on Tuesday 30th March, 2010. The discussion with Gill is printed in full on the link below:-

&

· Born 1914

· Parents: Hannah Mary Lloyd and Joseph Lloyd (pictured below).

· Father died of malaria in 1923, contacted in Salonika during WW1.

· One of 6 children, Margaret, Harold, Yorwerth, Nancy, Ina and Will the youngest.

· Will joined the Communist Party's Young Pioneers at the age of 8.

· From 1923 onwards, he was active in the Communist movement.

· At the age of 12 he was distributing leaflets in the General Strike.

· Aged 14 he went to work in Shepherds Pit (Cwmaman) and the Gadlys pit.

· At aged 18 he was victimised, along with the whole Federation lodge committee.

· Following this he sought work in London.

. He became active in the anti-fascist movement and participated in the 'Battle of Cable Street' against the

Blackshirts

· He also helped organise the welcome for the 1936 Hunger March.

· At the age of 22 he was among the very first British volunteers for the International Brigade, to fight against fascism in Spain.

· He was already in the front line against fascism, 3 full years before the Second World War.

He saw action as a runner in Jarama and Brunete.

· He returned to a hero's welcome in the Aberdare valley in September 1937, which he disliked.

· He was among the first to be critical of the cult of personality.

· Died 1986.

(This hit song by the Manic Street Preachers was inspired by the Spanish Civil War and an original Republican poster. The lyrics refer to the ideals of the International Brigadiers.)
As a result of an appeal by the Aberdare Labour Party, the Aberdare Memorial was unveiled in 1967, by Bob Edwards the M.P. for Bilston, West Midlands, who had fought in Spain with the 'Partido Obrero Unificación Marxista'/'Workers' Party of Marxist Unification'. Originally placed in the Labour Rooms in Aberdare, it was resited within Aberdare Library, in 1986. Present that day, were the late Labour Party leader, Michael Foot plus local Brigadiers, William Lloyd and Morien Morgan. Sadly, all the men on this plaque have now passed away.
(Photos taken by Mark Williams on Monday, 15 February 2010 & Clive Williams on Tuesday, 30 March 2010).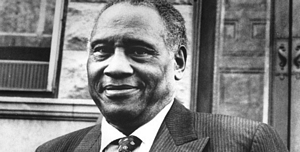 In 1938, the great American singer, Paul Robeson, attended the Welsh National Memorial at Mountain Ash, as guest speaker and addressed 7,000 people. In the conclusion to his speech, he stated,
'I am here because I know that these fellows fought not only for Spain but for me and the whole world. It is my duty to be here'.
(Click on photo for Hywel Francis's article, 'Paul Robeson and his Legacy for Wales', 2003.)
SPOTLIGHT
ON
WILLIAM. D. LLOYD
1914 - 1986